Covid-19 management at the college
The NSW Public Health Order aligned to COVID-19 management and the reopening of NSW comes into effect from Monday 11 October 2021. The understanding of Western Riverina Community College (WRCC) regarding mandated vaccination changes is that there is no mandated two-shot COVID vaccination for Vocational Education Training (VET) activities facilitated by WRCC. Nonetheless, the College strongly encourages WRCC students to be vaccinated against COVID-19.
However, elements of WRCC activities that will require a person to provide demonstrable evidence of Full Vaccination (two doses) against COVID -19 will become necessary when and where a client or student interacts with the College under the following circumstances:
A client or student over 16 years attempts to enter WRCC premises at 23 Hickey Crescent Griffith NSW. (WRCC operates a Secondary School from these premises, and Vaccination is mandated).
A WRCC student enrols to participate in training facilitated by WRCC and such training is held within a NSW Registered Club or at an NSW Government-Owned facility or any other situation where an NSW Public Health Order requires mandatory COVID vaccination.
A student engaged in practical training activities may require entering a workplace with mandatory vaccination requirements. Such qualifications include Certificate III in Fitness and Certificate III Individual Support.
In such circumstances the Public Health Order (PHO) requires people to provide evidence of their vaccination status or have a medical exemption provided by a medical practitioner indicating a person cannot have a COVID -19 Vaccination.
Acceptable evidence of Vaccination is as follows,
Evidence from the Australian Immunisation Register that the person has had two doses of a COVID vaccine
Or an online immunisation history statement,
A COVID-19 Digital Certificate from the Australian immunisation registry,
or the yet to be released NSW Mobile Phone application.
Evidence from a medical professional contraindication certificate (Medical exemption from COVID vaccination)
WRCC acts to maintain a safe workplace for its employees and students and has implemented and continues to maintain and develop the WRCC COVID Management Plan. Additionally, the plan can and will change according to requirements set by NSW Health and any current and or future NSW Public Health Order.
WRCC COVID Safety Plan
WRCC has and maintains a COVID safety plan elements of the plan are as follows
Students must check-in with the NSW QR code specific to WRCC
Where necessary, a student must provide evidence of COVID Vaccination (two-shot Vaccination)
WRCC will monitor students body temperature individual students' general health and wellbeing on arrival at training
Enhanced hygiene practices- Inclusive of regular hand and equipment, furniture sanitising
Social distancing- Students spacing metres square per person in line PHOs and maintenance of minimum 1.5metres.
Face Masks- Wearing face masks are mandatory in all WRCC venues and all indoor training locations.
Students who are unwell or exhibiting symptoms similar to COVID will not be permitted to attend training. Students who are unwell on the scheduled training day can reschedule training by contacting WRCC administration 02 6964 5334 Monday – Friday 9.00 am – 4.30 pm. Students who postpone training due to ill health will be required to provide a medical certification or evidence of a COVID test to facilitate the rescheduling of training.
Students in Certificates III Individual Support Aged Care stream and Certificate III in Fitness are required to be vaccinated to complete practical requirements of these courses
Non vaccinated people are encouraged to contact the College via telephone or use the WRCC website for queries. Non-vaccinated individuals will not be permitted entry into the WRCC Hickey Crescent Griffith building.
I hope you also understand the following details may change as the NSW Government may adopt different strategies tuned to reopening NSW and the control of the COVID Pandemic.
Should you have queries and concerns, please contact the WRCC administration during office hours Monday – Friday, 9.00 am – 4.30 pm. Phone: Griffith – 02 6964 5334 or Leeton: 02 6953 3777. E-mail: enrolments@wrcc.nsw.edu.au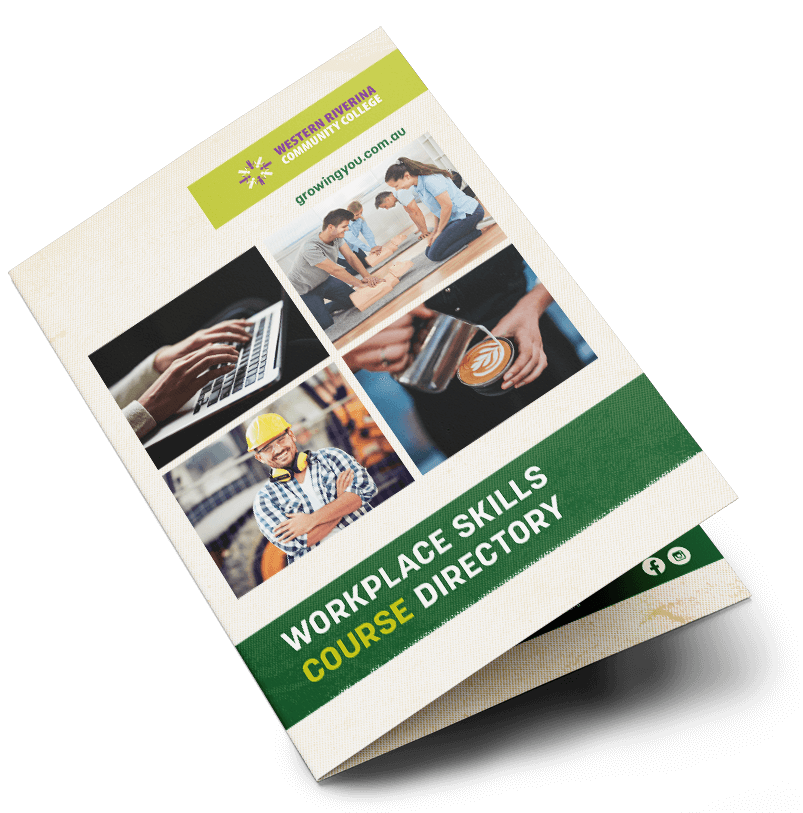 For information about courses offered please download our workplace skills course directory below.
Did you know that WRCC offers customised training for your staff? Content is tailored to the needs of your business, and courses can be delivered either at our college or in your workplace.